Often can hear that people saying: 'I must have sweet blood that mosquitos love me'.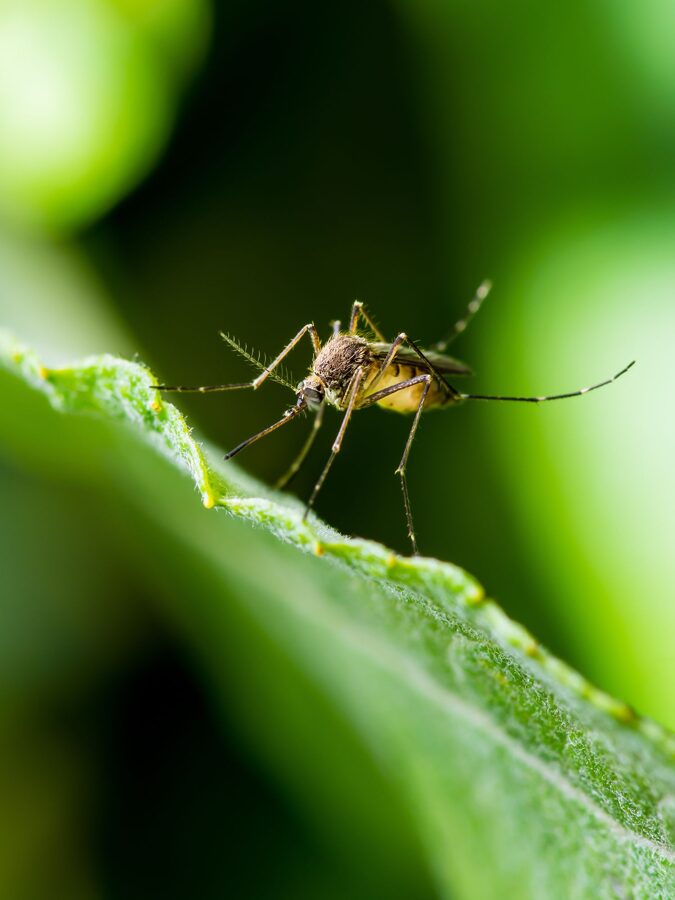 What really attracts them?
Many insects, mosquitoes included, are attracted by food smells already from 50 m. The odour of the carbon dioxide (CO2) gas that humans naturally exhale. Sweat attracts mainly blood-sucking bugs, especially human sweat is super target at least for 2 species of mosquitos.


Scents that attract mosquitos:
CO2.
You excrete it more after training or when simply too hot. Also lit candle.
Lactic acid.
Your sweat excretes it more after training or after eaten salty and potassium-rich products, like bananas (mosquito favourites), potato, orange, spinach, raisins, whole grain products etc. Hence being in an area with a lot of mosquitos avoid those and shower after sports activities.
Floral-fruit scents.
Mainly cosmetics– shower gel, shampoo, perfumes, also laundry detergents.
Humidity.
Mosquitos like water, inc. moist plants. Standing water is a perfect breeding ground.
Dark clothes.
Wear light-coloured clothes and long sleeves.
Sweat.
Adults have a stronger scent than kids. In a study, it showed infants and toddlers get fewer bites.

The best is to use a scent they don't like or distract them with one of their favourites.
What repels them:
Smoke, wind, (cool air, ventilator), candles, incense. However, sitting outside, there is no point in using candles and incense, because they can't smell them in the wind.

The smell of vanilla, but it must be pure vanilla, not vanillin. Dilute it in water and sprinkle on yourself or mix vanilla in olive oil and rub in.

Vinegar, apple vinegar– dilute and use in a spray bottle.

Garlic.

Cloves that you can knead from time to time to give off an odour.

Ointments containing menthol and eucalyptus and other similar substances.

Marigold, lavender, mints, catnip etc. It is recommended to plant those around terraces and verandas to make the so-called natural barrier or bring them to the table with a vase/pot.

Pure essentials oils which repel bugs.

Lemongrass pure oil

is one of the natural remedies for mosquitos and other bugging insects. Lemongrass is known as one of the oldest repellents, found in many ancient recipes.
You can spray tea made from yarrow, rosemary or some other bug repellent plant on children. Their sweat is milder and does not require as strong products as adults in general.
When making a mosquito repellent yourself, keep in mind that each person's body and odours are different and that works in one person may not do so in another. Common recipes include essential oils, water and alcohol.
Essential oils:
One of the best is neem tree oil, lemongrass, lemon eucalyptus, citronella, lavender, peppermint, sweet orange (+ other citrus essential oils like lemon & grapefruit), spearmint, tea tree, clove, garlic oil, basil, cumin Et al.
Plants used in essential oils can be used also different ways, for example, lemongrass in a candle, incense, cream. Be careful using essential oils, without dilution can use only a few (like tea tree, lavender). Most of them need to dilute base oil or make a mixture of water and alcohol.
Be also moderate in use, they can irritate the skin.
Definitely use pure oils instead of aroma oils.
Avoid eye and broken skin area. Know that natural does not always mean safe, some people are allergic. Therefore, it is wise to try home-made sprays before in a smaller area of skin. Mixtures made from essential oils could be applied to areas of the pulse, such as the wrist, temples and neck.
If the essential oil is not available, use fresh plants such as lavender, basil, mint etc. Rub them directly on the skin, as well as crush and wrap in a scarf and put it around your neck or arm.
Tea tree oil and calendula oil, clove oil, lemongrass, etc. are ideal for bites and bumps. In addition, cooling products (gels-creams containing menthol or eucalyptus) or plants (eg lemongrass). Drying products (salts, baking soda with water, acids - lemon, lime). Avoid scratching to prevent inflammation.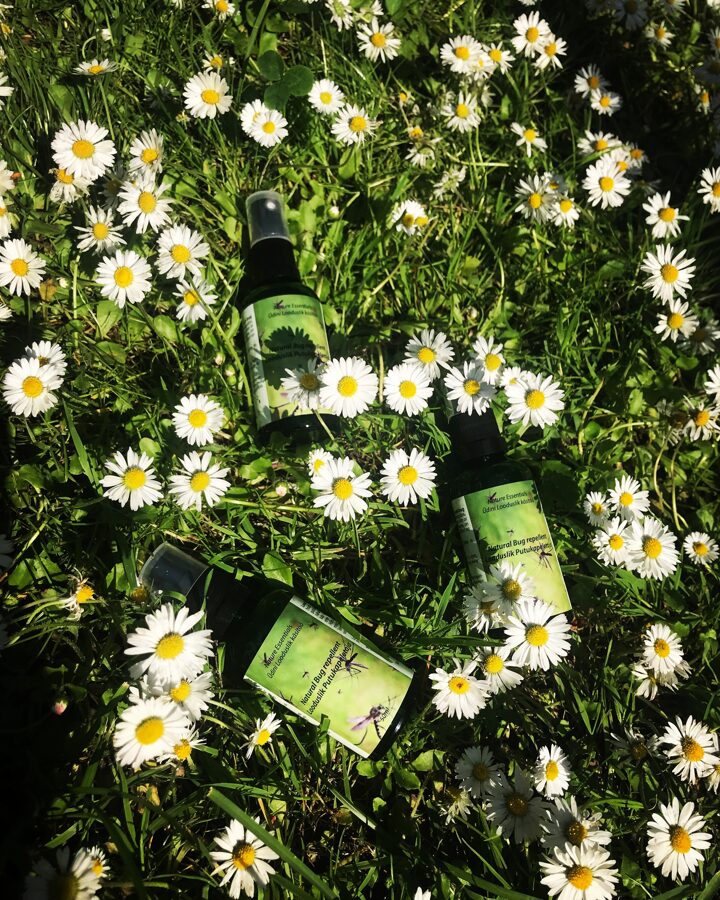 Natural anti-bug spray
- mosquito repellent.